What a gorgeous lasting reminder of your pregnancy with a pregnancy belly cast!
Pregnancy Belly bowl, Baby Bump
Belly, breasts, and shoulders
A Mother and her Baby. What a beautiful thing!
| | |
| --- | --- |
| Belly bowl | $250 |
| Belly and breasts | $380 |
| Belly, breasts, and shoulders | $495 |
| With hand, additional | $90 each |
| With partial face, additional | $125 |
| | |
| --- | --- |
| Addition |   |
| Finish cast :                      (White/Gold/Bronze/Silver) | $45 |
| Custom : contact us for cote |                                      |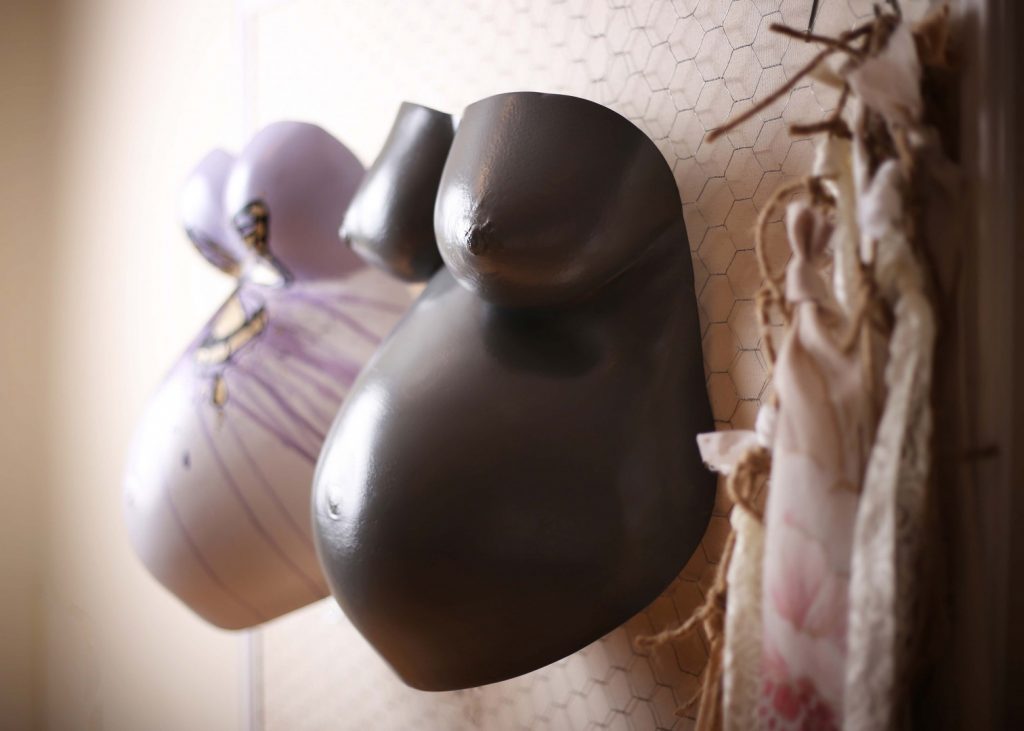 What happens during a session ?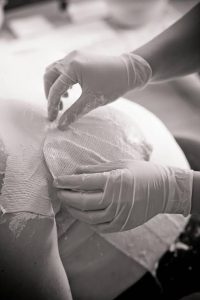 For the realization of the molding of the rounded belly of the mother (from the 7th month of pregnancy preferably), I go to the comfort and the intimacy of the house of the mother. The latter will have taken care to choose a comfortable chair / armchair on which she can stay the time necessary for the molding.
Your partner, family member or friend can also join in on the casting process, it's a lot of fun!
I then proceed to cast the entire bust (unless otherwise requested). It is important to have old clothes in your possession  because Vaseline cream and plaster can stain and damage the fabrics. Nudity should in no way be an obstacle to his project. I can mold through light clothing!The materials that I use for the molding are obviously safe for the mother and the baby. The technique is completely painless. It will take approximately 45 to 60 minutes to complete the complete molding of your belly.. The delivery of the cast takes place within 3 to 5 weeks after the impression is taken, depending on the drying of the cas

What our happy customers have said about us 🙂
"I was planning to gift my momdad with something that would remain throughout lifetime to celebrate their 40 years of togetherness. And suddenly I saw Art of Love on facebook. One look at the page and it clicked, this is it 😃. I contacted Oksana and talked to her, she gave me ideas and options that could be done. Brought my momdad as a surprise to her place, and like a magic the casting was done. The output that came out was beautiful 😍❤️. It was the best gift that I could give it to my momdad and not just for them but for us as well. The ashirwad hand cast and together forever will always be with us. Thank you so much Oksana for making it memorable. I really appreciate the hard work you have put into making it lively. I highly recommend it for the couple and oldies, if you are looking for a gift for your loved one or family… this is the art piece you should go for it ❤️❤️❤️"
"My partner and I originally went here around 3 months ago to get casts of our children made and they turned out incredible, i have never seen anything like it. when moving house the last mouth, the frame broke and casts detached from glass, upon contacting impressive memories they were happy to help to get our piece back to how it should be. i would highly recommend this to anyone as we always get compliments on our piece when we have visitors"
"We made a cast of three generations on Mother's Day: myself, my mom, and my daughter. I can't express how very much I love it. It was also kind of a cool bonding experience holding each other's wrists inside the mold for a few minutes. My mom's 85 years old, so it is even more special to me. She won't be around forever, but I will always remember this day and the fun/laughter we enjoyed doing this."